Working with nature
The Australian macadamia industry sees sustainability working hand in hand with productivity, and this is driving innovative thinking on-farm, increased biodiversity, and development of effective biological controls.
Promoting biodiversity
Growers work with nature as much as possible to produce the best quality nuts. Pest suppressive landscapes have been extensively implemented across Australia's major growing regions. This practice centres on increasing biodiversity within the orchard to bring balance to the natural environmentand allow beneficial insects that suppress harmful pests to thrive.
This is achieved by planting diverse species around the macadamia trees and actively sowing inter-rows between tree rows with a host of different vegetation including grasses, legumes and brassicas, as well as floral coverage to encourage natural pollinators1.
Composting is a way of recycling organic matter on the farm and feeds the soil biology, which in turn promotes healthier trees with fewer pest and disease problems.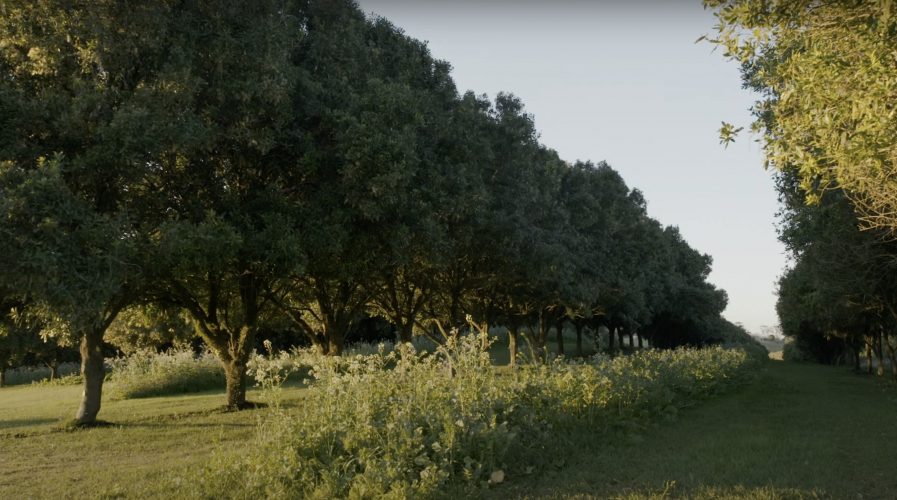 At the forefront of biological controls
Australia's macadamia industry has a long history of combating pests and disease via biological controls. For many years, growers have used the Trichogramma wasp as a natural tool in the fight against nut borer, while barn owls provide a chemical-free means of protecting the macadamia crop from rodents.
While honey bee populations are under threat globally, Australian macadamia growers are using Australian native bees to pollinate crops.
Our industry invests in ongoing research into sustainable and ecological sensitive agriculture, and we are at the forefront of many exciting developments in biological pest control. Trials of entomopathogenic fungi as a natural pest control are due for completion soon2 and will provide another effective bio tool that Australia's macadamia growers can leverage.
Watch this video to see regenerative agriculture in action.
---
1 Dr Abigail Makim and Dr Christopher Carr, "Piccadilly Park" – Macadamia Inter Row Project Results, April 2020
2 Kim Khuy, University of Southern Queensland in collaboration with NSW Dept. of Primary Industries and QLD Dept. of Agriculture & Fisheries