The benefits of Australian grown macadamias were on show at a recent live event in Taiwan that attracted a 25,000-strong crowd. ET Today Chill Day is an all-ages outdoor festival featuring a range of attractions including a foodie market, photo booth, and live music performances.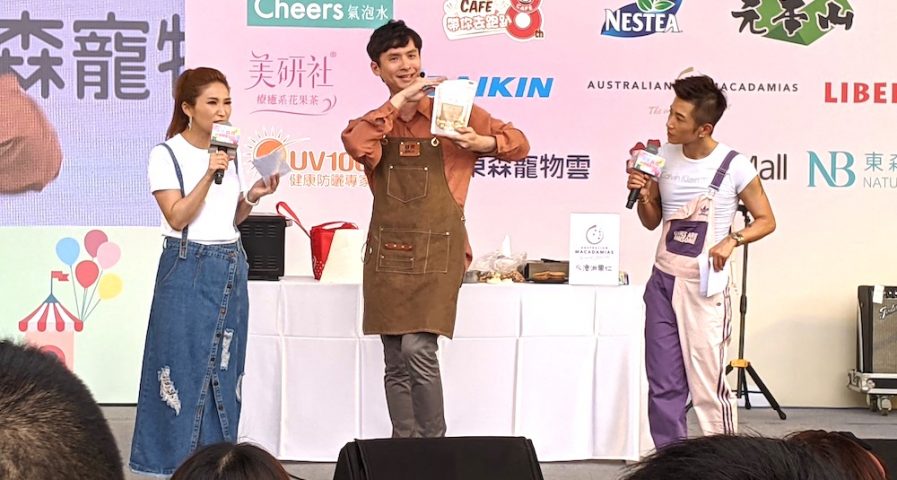 Hosted by major Taiwanese online news and entertainment channel ET Today, this year Australian Macadamias was a Chill Day sponsor, delivering valuable brand exposure and the opportunity to conduct a macadamia cooking demonstration in partnership with a popular Taiwanese food influencer.
While COVID-19 meant crowds were a little smaller than usual, this was made up for online, with the livestream on Facebook viewed 250,000 times. Brand exposure took place via a host of promotion by ET Today not only on the day of the event, but in the lead up and afterwards too. In total, the activity reached an audience of more than half a million people, exceeding expectations.
The highlight of the sponsorship was a macadamia cooking demonstration conducted by influencer "Nanaco" on the event stage. Nanaco is a professional chef and popular YouTuber, who boasts a social media following of more than 230,000 people. He is well known in Taiwan for his delicious desserts and signature humorous presentation style.
Nanaco showed the crowd how to make a macadamia caramel tart, with the demonstration livestreamed on ET Today's website, app and Facebook page. Nanaco also posted about his demonstration on his social media channels on the event day and afterwards, further amplifying and sustaining our brand messaging and exposure. ET Today shared the demonstration again on social media in the days following the event, which resulted in thousands of additional views by fans who missed the event day or wanted to follow along as they recreated the tarts at home.
The sweet aroma of the cooking demonstration had the crowd drawing closer to the stage, intently watching Nanaco combine the macadamia nuts with the caramel sauce. As he worked, he shared his knowledge of macadamias and the various ways he likes to cook with them.
The demonstration was capped off with Nanaco conducting a fun Q&A session with the crowd, with several fans winning packs of macadamias from popular Taiwanese brand Thank You Nuts.
In a time when live events have become difficult to run, it was fabulous to once again have the opportunity to engage live with macadamia fans in one of our most important markets.