The Australian macadamia industry's appetite for innovation was on full display recently with the opening of a new macadamia agritourism facility in the major Australian growing region of Bundaberg.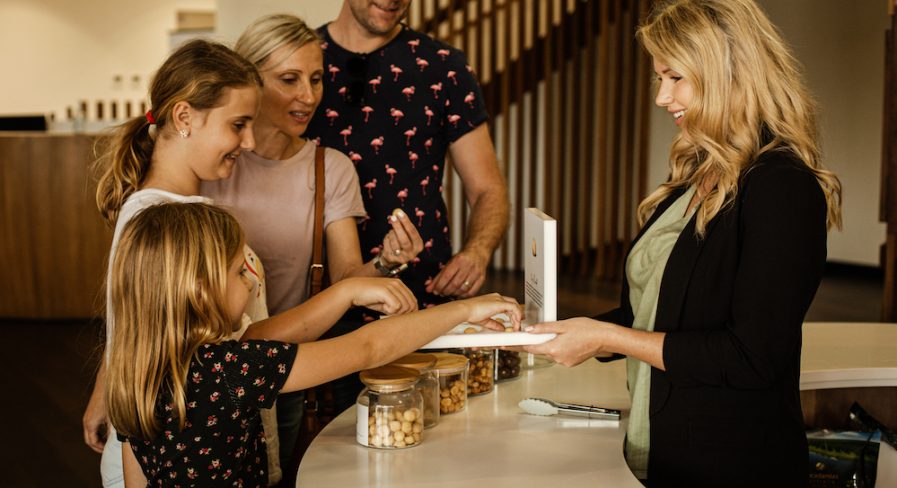 For 10 years, the team at Macadamias Australia had been dreaming of creating a hands-on macadamia tourist experience in the region. As second and third generation macadamia growers, they live and breathe the many facets of the macadamia story daily, but they knew there was an appetite among the public to experience first-hand how macadamias are grown and what it takes to get them from the tree to the table.
That dream was finally realised with the recent opening of the Macadamia Visitor Experience and The Orchard Table Café, and director Janelle Gerry says the team is super excited to open the facility's doors.
"We've known for a long time that people wanted to learn about macadamias and buy locally grown, so it's fantastic that we can now provide this venue," she says.
A story of sustainability
There's much to see and do at the new venue, from interactive displays, a tasting pod and retail space to enjoying a macadamia treat from the café, or a picnic in the macadamia orchard. Central to the experience is the sustainable practices that are employed at every stage of growing, processing and value-adding.
"Our visitor experience showcases all facets of growing macadamias and creating macadamia products, from the steps we take to look after the soil, to the care we show when value-adding," explains Janelle.
"We hope people leave our visitor experience feeling proud to support the macadamia industry, knowing it's a native Australian product that can be grown sustainably using regenerative farming methods."
Janelle says the experience includes displays showing the organic materials that are returned to the earth to improve soil health and store carbon, as well as in-depth information about regenerative farming and the use of beneficial insects to help with pest management.
"We also have a sustainability hub dedicated to several of our environmental initiatives, such using macadamia shells from our cracking room to power our processing facility."
Feeding an appetite for knowledge
Research has shown that 82% of consumers say origin is important to them when purchasing macadamia nuts1 and the Visitor Experience has been cleverly designed to cater to the groundswell of consumer interest in food origin and transparency seen in recent years.
"Consumers have become more aware of their choices and are conscious that everything from the car they drive to the food they eat has an impact on the environment. They want to know they're eating food that is produced in safe conditions with minimal impact on the environment," says Janelle.
The Macadamias Australia team sees its new venue as a way of educating consumers not only about macadamias generally, but why Australian origin macadamias are so special.
"Australian macadamias are known around the world as the highest quality. As growers and producers, it's our responsibility to maintain that standing because, as our industry grows, and more people are consuming macadamias, the ability to showcase the provenance of our macadamias will become even more important," says Janelle.
While visitor numbers to Bundaberg may have been down during the pandemic, Janelle says as more tourists grace the area once again, the venue will be a must-see attraction that offers something for everyone.
"We're lucky that macadamias are so well loved in so many countries around the world, but a lot of people don't know that much about how they're grown or where they come from," she says.
"We're excited to be able to showcase all facets of our industry to visitors from all over the world so they will go home with a renewed appreciation for not only macadamia nuts, but the trees' uniquely Australian history and everything that makes our industry special."
A positive response
While the Macadamia Visitor Experience has only been open since October 2021, Janelle says they've been overwhelmed by the positive feedback the venue has received as they strive to close the knowledge gap between what grows in the soil and what ends up on the table.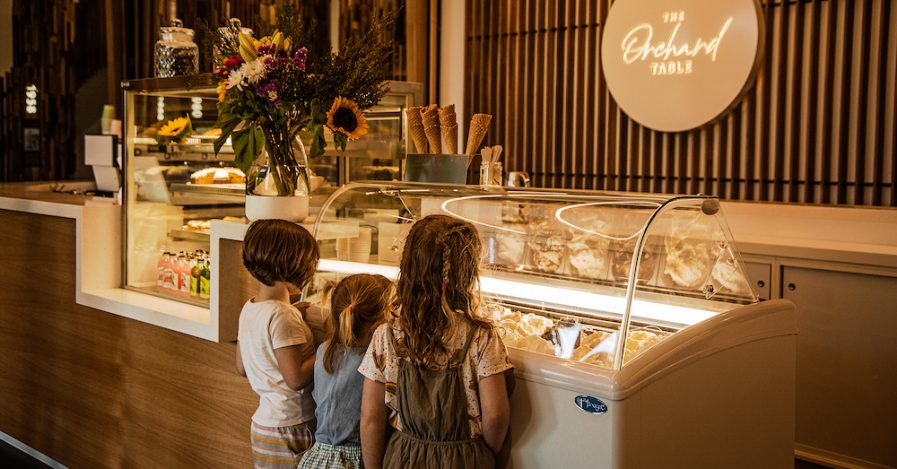 "People are so enthusiastic to learn as much as they can about macadamias. We're proud to be able to showcase our industry and provide a place where people can come to learn and appreciate everything about these wonderful trees and the people who care for them."
For more information about The Macadamias Australia Visitor Experience and The Orchard Table café head here.
All images are courtesy of Macadamias Australia.
---
1 Discover Macadamias consumer insights quantitative research conducted by independent research agency Kantar, December 2020