The Australian macadamia industry's commitment to ongoing consumer research stretches back many years, with the insights gained helping to shape our international marketing strategy. For our latest research project we have taken a different approach to previous studies, both in terms of the research methodology and the way the findings are being delivered.
Last month, we ran our first ever LinkedIn Live online event called Future-Proofed Food for Health-Forward Consumers. Created to provide an in-depth look at some of our most recent research findings, the event took the format of a live conversation, hosted by Australian Macadamias marketing manager Jacqui Price, with guest panellists, Alice Zaslavsky and Pam Brook.
Alice is an award-winning author, broadcaster and taste maker, while Pam is a macadamia grower and co-founder of premium cereal and snack brand Brookfarm. They brought food industry and manufacturing experience to the conversation, and a deep understanding of what drives today's conscious consumers when it comes to food.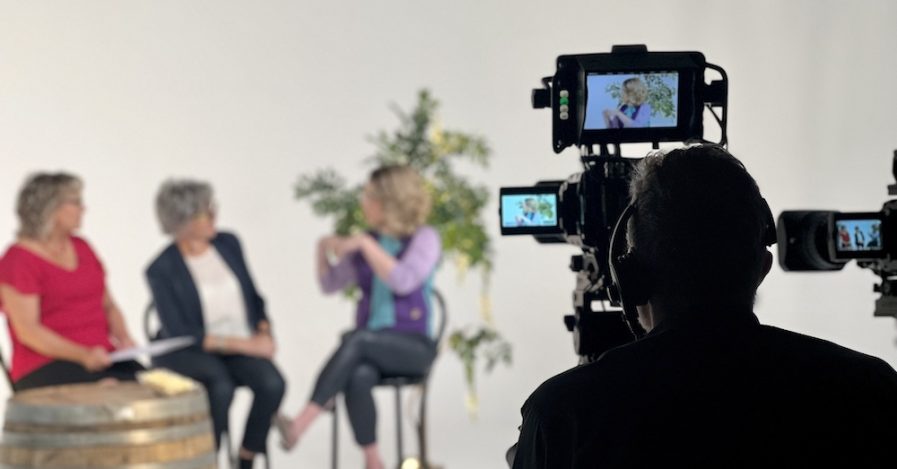 Exploring trends from opinion leader research
Our most recent research explored major food trends and innovation opportunities for product development with macadamias. Rather than talk to consumers as we have done in the past, this time we conducted a series of in-depth interviews with key opinion leaders across Australia, Taiwan, China, South Korea, Japan and India, with panellist Alice Zaslavsky participating in the research.
The live event enabled us to unpack two of the key trends that emerged from this research – multi-dimensional health and future-proofed foods, opening up a rich and insightful conversation.
Multi-dimensional health
Health has been top of mind for consumers for several years now, but the way it's playing out is constantly evolving. According to the research, the health trend is predicted to reach new heights, as its meaning continues to manifest across markets and consumers' knowledge keeps expanding.
Alice believes there are several factors feeding this trend. "The pandemic played into consumers recognising that they can take control of their health through food, and with social media, there are so many more nutritionists and dietitians communicating the health benefits of foods."
As a product developer for both the Australian and international markets, Pam said that brands looking to launch new products with a health proposition must bed down taste and cultural norms first.
"When you're looking at different markets, you need to look at what people like to eat. A granola that's seen as really healthy in Australia won't work in a country where people don't eat breakfast," she said. "It's important to find ways to add value for health that fits with how (people in that market) eat," she said.
Balance-seeking on trend
The research highlighted 'balance-seeking' as one of the ways health is now playing out, with consumers viewing health more holistically, being less focused on perfectionism and recognising that indulgence can be part of eating well.
Alice feels this message is resonating now more than ever. "A lot of the language that I use is about removing guilt and helping people feel positive about the way they're eating. In terms of macadamias, they're not just about taste and nutrition. They're a premium addition to anything. They feel indulgent."
"I think we're finally getting past that neurosis about fat," said Pam. "People went low fat, but then they substituted with sugars, which was a terrible health outcome. Now people are realising we need to achieve balance."
Growing interest in functional food benefits
The health trend has also seen more consumers interested in understanding the functional benefits of food, sometimes at quite a granular level, and Alice believes consumers are becoming more individualised and educated in the way they think about their health.
"Many people are following a 'wellness warrior' of some kind, and functionality comes up a lot. It's less about the food pyramid and more about 'What can I do to fortify my eating in order to feel even better?'" she said.
Pam believes that provided it delivers on taste and functional promises, consumers will pay more for a premium product that contains ingredients that offer the functional benefits they're looking for. Additionally, she says people are seeking real food. "If you've got a premium product and it's real food, people feel they know where it came from. They trust it and they're willing to pay for it."
Future-proofed food
Future-proofed food is a trend that's emerging due to increasing macro-economic pressures, and the impact this is having on food availability. It's forcing consumers to re-think how they access and use what's available to them, and it raises important issues for manufacturers too.
"I think it's a real challenge for manufacturers and producers to live up to", added Pam. "When producing products, at the forefront must be where we source our ingredients from, ensuring they're from trusted sources, and supporting farming innovation. And also communicating this to the consumer. The consumer needs to feel good about what they buy. That emotional bond to food is really important."
The need for 'accessible inspiration'
This trend has also sparked the need for 'accessible inspiration'. Consumers are currently very price-conscious and looking to create their favourite foods in more affordable ways. The same can be said for manufacturers, with price pressure being felt right through the supply chain
Alice said this trend is seeing consumers trying to make things at home that they would normally buy processed. She gave the example of nut milk. "They're thinking about how they can do this in a cost effective way. For example, buying broken nuts to recreate that product."
It's an example that has relevance for manufacturers too, thanks to the wide range of ingredient-grade macadamias that are available for commercial use. When considering macadamias as an ingredient in a product formulation, smaller kernel styles may be the most economical option, and in many instances, may also be better suited to a formulation than premium-priced whole kernel.
Pam delivered valuable insights on what it's like to create products using different macadamia styles. "50% of taste comes from texture, and all these different styles play into that," she explained. "We've created a porridge that uses tiny chopped up macadamias and macadamia meal. But then for a snack nut we might want a premium style because people want the look and feel of an entire nut. One of the gifts of the macadamia is all the different styles."
Pam said another upside of having a choice of styles is that you don't necessarily need a lot to make a big impact. "The macadamia brings its mouthfeel and flavour, so if you have 5-6% macadamias in a product it's still adding all that extra balance and flavour and giving you that texture and crunch."
Growing emphasis on adaptable ingredients
The research told us that because the pandemic restricted access to some foods, there's an emphasis emerging on ingredients that can be used in multiple ways to create many different dishes or products.
As a highly adaptable ingredient, this trend is particularly relevant to macadamias. Available year-round in a variety of formats (kernel, paste and oil), they suit both sweet and savoury flavour profiles. When stored correctly, they have a long shelf life.
Because Australian macadamias are grown in their natural home, the trees are naturally adapted to the very harsh conditions that characterise our climate. The past few years have seen major growing regions experience both severe drought and flooding, yet the macadamia trees have still produced a healthy and abundant crop.
Pam feels the premium taste and texture of macadamias is one of the reasons they're so adaptable. "People are looking for quick fixes. There are all sorts of fancy ingredients but some of them don't taste very good. So you need to put those with ingredients that really do taste good. The macadamia can make things that taste bad taste good," she said.
Alice believes that consumers seeking healthy, premium products are looking for ingredients that can layer flavours, for example using a macadamia oil in a salad as well as macadamia pieces. She also says Australian origin matters.
"It's an adaptable product and the fact it's endemic to Australia is important," she said. "It likes growing here. That means it will continue to grow here and as regenerative agriculture becomes more top of mind it's a really exciting space to play in."
Want to know more?
To watch the full replay of this multi-layered conversation head here.  And if you're not already, we invite you to follow us on LinkedIn.
If you have any questions about the information discussed in this online event please contact Jacqui Price or talk to an Australian macadamia supplier.