Möchten Sie die Kategorie Schokolade aufrütteln? Macadamia-Nüsse könnten die Zutat sein, nach der Sie suchen. Das ist die Botschaft, die aus den Erkenntnissen der neuen Consumer Insights-Forschung über Macadamia-Nüsse und die Kategorie Schokoladenkonfekt entstanden ist.
Im Auftrag der australischen Macadamia-Industrie untersuchte die Studie die Kategorie sowohl auf dem westlichen als auch auf dem asiatischen Markt und untersuchte, welche Rolle Macadamia-Nüsse spielen könnte, um sicherzustellen, dass Schokolade auch in Zukunft für die Verbraucher relevant bleibt.
Die Forschung identifizierte vier Innovationsmöglichkeiten für Macadamia-Nüsse in der Kategorie Schokolade und fand auch heraus, wie Macadamia-Nüsse für die Motivatoren des Schokoladenkonsums spielen können, inwieweit Macadamia-Nüsse als Bestandteil von Schokoladenprodukten nicht ausreichend genutzt werden und wie sie Schlüsselspannungen in dieser Kategorie lösen können.
Für weitere Informationen kontaktieren Sie Ihren australischen Macadamia-Nuss-Lieferanten General Manager Marketing Lynne Ziehlke oder werfen Sie einen Blick auf unser Interview mit einem der Forscher der Studie hier:
Chocolate: the universal indulgence
Chocolate holds a cherished place in people's lives, with a universal appeal that transcends geography, age and gender. With its rewarding taste experience, chocolate represents comforting reward and soothes the hardships of everyday life.
When it comes to why consumers purchase chocolate, four broad motivators were revealed, with macadamias well positioned to play a role in all of them.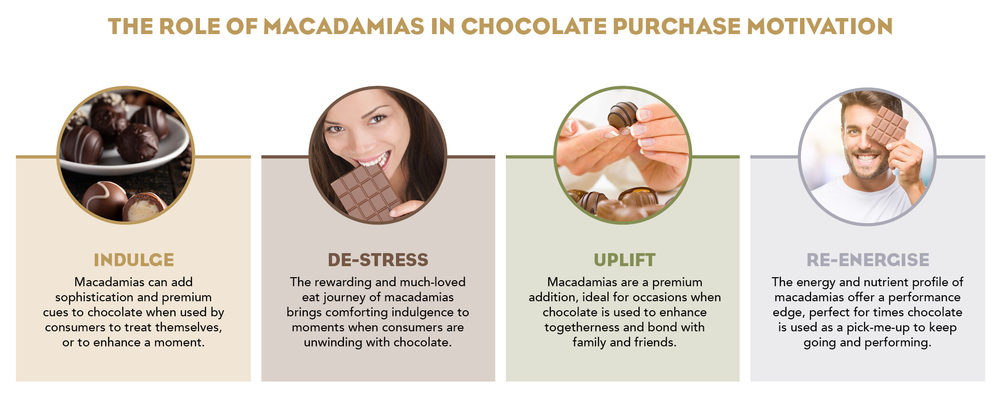 Schokolade: der universelle Genuss
Schokolade nimmt einen begehrten Platz im Leben der Menschen ein, mit einer universellen Anziehungskraft, die über Geografie, Alter und Geschlecht hinausgeht. Mit ihrem lohnenden Geschmackserlebnis stellt Schokolade eine wohltuende Belohnung dar und lindert die Härten des Alltags.
Wenn es darum geht, warum Verbraucher Schokolade kaufen, wurden vier breite Motivatoren enthüllt, wobei Macadamia-Nüsse gut positioniert sind, um bei allen eine Rolle zu spielen.
The findings concluded that macadamias are the ideal disrupter, as they can build on the established nut and chocolate relationship but also inject extra excitement. There are four key benefits that only macadamias can bring to chocolate:
1. 1. SCHWELGEN:: Macadamias können der Schokolade Raffinesse und erstklassiges Zeichen verleihen, wenn sie von den Verbrauchern verwendet wird, um sich selbst zu verwöhnen oder einen Moment zu verbessern.
2. 2. ENTSPANNEN:Die lohnende und beliebte Reise der Macadamia-Nüssen bringt tröstenden Genuss in Momente, in denen sich die Verbraucher mit Schokolade entspannen.
3. 3. VERBESSERUNG: Macadamia-Nüsse sind eine erstklassige Ergänzung, ideal für Gelegenheiten, bei denen Schokolade verwendet wird, um das Zusammensein zu verbessern und sich mit Familie und Freunden zu verbinden.1. Their relative rarity makes them a more exciting and less expected inclusion in chocolate.
4. Preferable flavour profile: Das Energie- und Nährstoffprofil von Macadamia-Nüssen bietet einen Leistungsvorsprung, perfekt für Zeiten, in denen Schokolade als Stärkungsmittel verwendet wird, um weiterzumachen und zu funktionieren.
Macadamia-Nüsse sind reif, um die Kategorie zu unterbrechen
One of the key tensions consumers wrestle with when considering a chocolate purchase is the desire to eat healthy, wholesome food because 'health is wealth', versus the temptation to throw caution to the wind and indulge, because "life is for living". Consumers will typically manage this permissibility tension by opting for chocolate that is healthier, darker, smaller, lighter or more special – all spaces to which macadamias can add value.
This has created the demand for chocolate products that offer 'permissible indulgence'. Macadamias meet this demand perfectly, as their health benefits add a level of permissibility, while their status as a sophisticated ingredient answers the need for indulgence, more so than any other nut.
While consumers want permissible indulgence, they don't want it to involve compromise, so product innovation must deliver permissibility without detracting from the integral experience of chocolate.
Universality versus ubiquity
While chocolate is universally appealing and accessible, in Western markets it is becoming ubiquitous, with emerging perceptions that chocolate is "everywhere and on everything" threatening to dilute its specialness.
As a result, Western consumers are seeking out innovation via products that are more experimental, gourmet, selective or indulgent, all of which macadamias can deliver to. As a relatively infrequent addition to chocolate, macadamias are a compelling proposition to consumers as they seek out novelty and excitement in chocolate products.
Innovation opportunities for macadamias in chocolate
The study identified four key innovation hotspots for macadamias in the chocolate category.
#1: PERMISSIBLE INDULGENCE:
A healthier expression of chocolate focusing on quality and integrity, with additional ingredients that offer health benefits. Macadamias can add health associations via their protein and healthy fat content and cholesterol-reducing potential, alongside luxury cues that make them more special than other nuts in the eyes of consumers.
#2: NOVEL CREATIONS:
Fun flavour and texture combinations that add surprise and joy to everyday chocolate. Macadamias can add textural intrigue via their unique eat journey that complements chocolate so well, and a sense of the 'extra-ordinary' as a more novel and less expected ingredient.
#3: CREATED WITH INTEGRITY:
Chocolate that has an origin and craftsmanship story that speaks to consideration, attention and refinement. Macadamias can add natural and wholesome cues and a halo of integrity and high quality.
#4: REFINED SOPHISTICATION:
Premium chocolate that delights the adult palate through flavourful taste combinations. Macadamias are a sophisticated and luxury ingredient that lend themselves to gourmet flavour combinations. Their taste profile can bring sweetness to more bitter chocolate and also carry saltier, savoury flavours to balance out sweeter ingredients such as white chocolate.
Need more inspiration?
These findings are the latest in a collection of consumer insights research carried out of the last 2 years, exploring innovation opportunities for macadamias in the Eiscreme, Bäckerei und Snack categories as well as our 2017 study of globale Lebensmittel- und Getränketrends that provided a macro backdrop to the category-specific research.
In addition, the world-first Macadamia-Nuss- Innovation-Challenge generated a host of unique and exciting concepts for new packaged food products containing macadamias, and they are now available for trial by food manufacturers and product developers globally.
To find out more about these concepts, or to learn more about any of our research, simply contact your Ihren Lieferanten für australische Macadamianüsse oder die General Managerin Marketing Lynne Ziehlke, Australian Macadamias General Manager Marketing.
The insights referred to in this story are from the research project Chocolate Confectionery Category and Macadamias: Western and Asian Consumer Insights conducted by independent research agency GALKAL, 2019.
1 Mintel Global New Products Database, products released in past 12 months globally